Kitchens | deep fryers fire suppression system

Commercial Kitchen
and Industrial Deep Fryers
PREMIUM level systems
RESTAURANT KITCHEN FIRE PROTECTION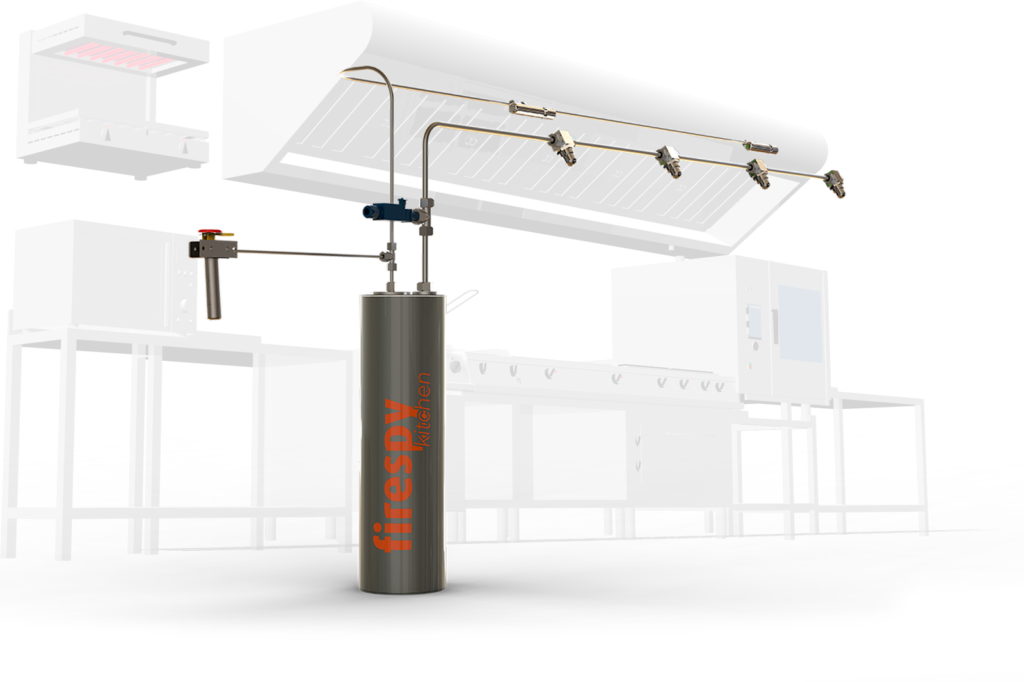 INDUSTRIAL FRYERS FIRE PROTECTION
FIRE PROTECTION FOR DEEP FRYING / KITCHENS
Complete system solution

Type of protection:
Segmented | Area by Area | Inside / outside the hotte
Protects each component individually.
What makes firespy unique?
No pressure
No electricity
(nearly) maintenance free
Ultrafast detection & extinguishing
Hybrid system (liquid/gas)
Works in all angles and positions

VdS certification S 613002
One nozzle for everything
Distance to the frying surface can be up to 1.83m
No Caps due to patented nozzle
No replacement of components for 10 years
Only one compact container – no control cabinet needed
Fire Suppression System for Commercial Kitchen and Industrial Deep Fryer
FIRESPY Kitchen
Everywhere that human lives or in our community, food needs to be produced. We may take it for granted and forget that the fire we start in the kitchen or fryers may very well be a safety threat. Extinguishing cooking oil or fat fire is not possible using a tradition fire extinguisher.
With the rising concerns and demand for a fully mechanical (hence no need for large control panel), zero moving parts (no need for wires and pulleys), easy to install and one standard nozzle (German VdS approved) able to reach long distance (without drop down pipe), Protecfire ingenuity and consistent research & development created a revolutionary fire suppression technology that is unlike any others. We call this new system the firespy Kitchen; a pressureless system with no moving parts.
With this patented system, it is a self-sufficient extinguishing system that does not require any connection to external electrical power source or control. The liquid agent container is self-sufficient, compact and factory sealed with no need for pressure gauge, the pilot line consist of our patented detectors whereby pre-determined temperature selection for activation is possible (as we believe that the entire large kitchen or deep fryer have different temperatures at different areas, such as above the gas stove versus inside the air ducts). The extinguishing line consist of our patented German VdS approved capless nozzle designed for all the protected areas.
The firespy uses proprietary liquid agent developed by protecfire, a comparatively small amount of our propriety liquid extinguishing agent TIBOREX will create an enormous cooling reaction hence absorbing large amount of thermal energy from the fire resulting in a very fast extinguishing of the fire, the remaining liquid agent forms a sealing (blanket) film over the kitchen stove or deep fryer.
Easy to install
FireSpy is easy and fast to install in all kitchens.
Minimal maintenance
Fit and forget…. ok, it's good to clean it once and a while!
No electricity and no pressure
Even with electrical failure, FireSpy system will be active. The system contains no pressure.
FireSpy – 2 Lines System
1pipeline for Detection
1 pipeline for Extinguishing
The 2 lines system have no pressure in the pipping.
In FireSpy this solution is applied due to the long pipelines installed.
Dual Line
No Pressure
10 years – no parts replacement
No Maintenance
Ultra-Fast detection
No Electrical Power Supply Needed
Operates in Temp. of: -30ºc to 80ºc

Shock & Vibration Resistant
Stainless Steel made
Easy to Install
Fully Mechanical
Dual Line | No Pressure | 10 years – no parts replacement | No Maintenance | Ultra-Fast detection | No Electrical Power Supply Needed | Operates in Temp. of: -30ºc to 80ºc | Shock & Vibration Resistant | Stainless Steel made | Easy to Install | Fully Mechanical
FireSpy Kitchen for Commercial and Industrial Kitchens
---
How does it work?
FireSpy certification tests – burning oil
safety of testing
certifications
Our certified products go through a hard process, so that you are sure that they will work when needed.